HellFire BBQ Apron
HellFire ® Premium BBQ Gear makes people smile, and lasts long!
Top quality materials, and advanced manufacturing techniques mean our products do not end up being tossed into a landfill site in a few months.
Do you hate the look of ordinary aprons?
Are most aprons too small for you?
Are you tired of poorly constructed products?

Over 75 reviews from honest, actual customers average 4.8 out of 5 stars
Scroll down to check out our awesome large size HellFire BBQ Apron:


LOOK GOOD
Protect your clothes and look good at the same time!  Other aprons are too small, or look silly or goofy—don't you deserve better?
SUPERIOR QUALITY
Enlarge the photo to see some of the awesome features of our apron! Premium gear is our motto.
SECRET VIP CLUB
Your purchase comes with a web page address to join our Private VIP Club! Get free BBQ gear!
Eternal Flames

Eternal Smoke

Barbecued Flesh

Good Times!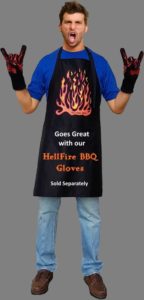 ROCK YOUR BBQ!
Our apron goes great with our HellFire BBQ Gloves, which resist heat up to 932 degrees — Devilishly hot!


EXTRA LONG TIES
Our wider, longer 32 X 36 inch apron also has 38 inch long ties—in case you want another beer!
It also has extra width to cover around the sides, so even if you hit the dessert, we've got you covered!

BEER POCKET—YES!
Most brands of bottled beer or other drinks will fit in the small, tall pocket—and won't fall out when you move around.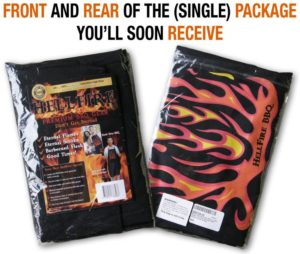 WHAT'S IN THE BOX?
Here is the front and rear of the package you'll get.  The paper insert has the web page address for your free BBQ eBook.


Get It Now!
* You'll look good and be the most popular pit master around
* Hide your summer beer 'n bbq belly! — This apron is 32 inches wide
* Block flying grease and sauce! — Generous length is 36 inches
* Save money — Quality construction includes double-stitched stress points
* Save your shirt too! — Better coverage in the top bib area than other brands
* Don't overheat at the grill — Lightweight and breathable, but strong and durable
* Have another beer! — Ties are a generous 38 inches. Adjustable NECK
* Easy to clean — 65/35% Poly/Cotton dye-fast fabric won't "bleed" in the wash
* Keep tools handy — Two pockets are divided 1/3 – 2/3 for better storage
* Hide spills and splatters — Awesome flames also hide messes!
Regular price is $36.66, but this great apron is now on
SALE

for just $24.66
Save $$ and buy with
confidence on Amazon now!
Your purchase is safely covered by our 666 day
"Come Hell or High Water Guarantee"!
We'll make sure you are satisfied no matter what it takes,
or we'll refund 100% of your money.
Part #HFBBQ150033 — UPC #0712411786588

Over 75 reviews from honest, actual customers average 4.8 out of 5 stars